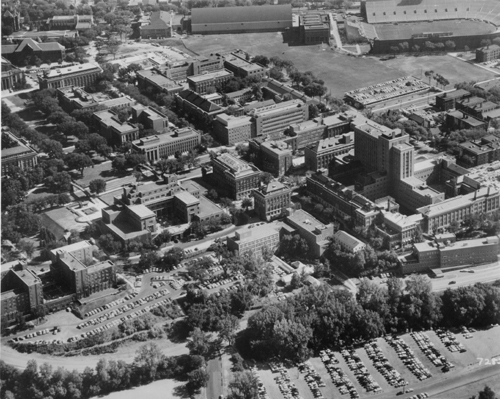 Title
Cray Research, Inc. headquarters
Description
Black and white image of Cray Research headquarters in Minneapolis, Minn. Stamped on verso side in blue ink is "Please Return Photograph TO Minneapolis Chamber of Commerce 711 Second Ave So. Minneapolis 2, MINN. PLEASE RETURN" and stamped in green ink is "...return to Minneapolis Chamber of Commerce 701 Second Avenue South Minneapolis, Minnesota 55402". There is a box drawn on tracing paper on verso side of image with dimensions (not to scale) of 6 in. and 9 1/2 in. Written in red ink on tracing paper is "69" and is circled and B3/F5 4.12". Written in black ink on verso side of image is "45". Written on recto side of image in blue pen is "2 3/4" with blue arrows at the bottom and "1 7/8" on the right side with arrows.
Publisher
Minneapolis Chamber of Commerce
Place of Publication
Minneapolis, Minn., U.S.
Dimensions
8 x 10 in.
Format
Photographic print
Category
Aerial view; Panoramic photograph; Aerial photograph
Subject
Cray Research, Inc. (CRI)
Credit
Courtesy of Gwen Bell