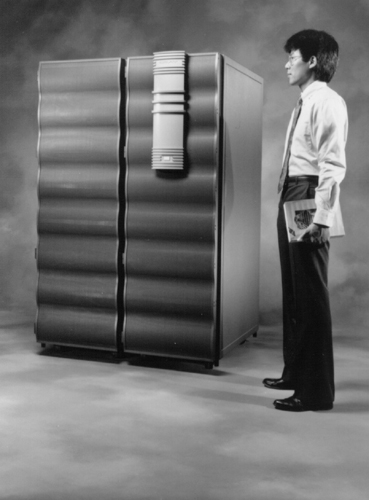 Title
Cray J90 supercomputer
Publisher
Cray Research, Inc. (CRI)
Place of Publication
Minneapolis, Minn., U.S.
Dimensions
7 x 5 in.
Format
Photographic print
Copyright Holder
Cray Research, Inc. (CRI)
Description
Black and white image of the Cray J90 supercomputer. There is a man standing on the right side of the image. He is facing to the left of the image. He is holding a book and wearing a tie and glasses. Written on verso side of image is "P4488" and "Cray J90".
Category
Identification photograph; Publicity photograph
Subject
Cray J90 (Computer); Cray Research, Inc. (CRI); Cray computers
Credit
Courtesy of Gwen Bell