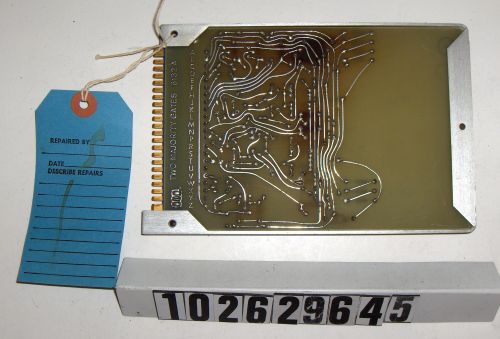 Title
Two Majority Gates 6132 A System Building Block
Date
1965 ca.
Manufacturer
Digital Equipment Corporation (DEC)
Identifying Numbers
Model number
6132 A
Other number
3K10
Handwritten to the left of the part number
Part number
6132
Serial number
0149429
Dimensions
overall: 1/2 in x 7 in x 4 1/2 in
Description
There is a blue "PDP-10 DEFECTIVE MODULE" tag attached that reads: "USER: BNL #1" "TYPE: 6132" "DEVICE: 166" "LOC.#: 3K9" "DATE: 2-1-73" "REMOVED BY: W.B. JOHNSON" "DESCRIBE FAULT: OUTPUT OSCILLATING". The number "3K10" is written to the left of the part number.
Category
Component/module