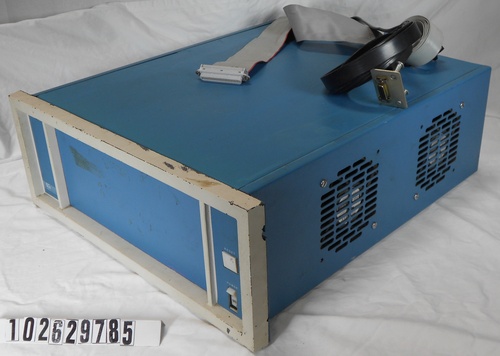 Title
Stanford ethertip box
Manufacturer
ETI Micro
Place Manufactured
U.S.
Identifying Numbers
| | | |
| --- | --- | --- |
| Serial number | 8100100541 | Wreitten in marker on the blue plaque on the lower left corner of the back |
Dimensions
overall: 7 1/4 in x 19 in x 24 in
Description
The front is surrounded by a white frame. On each side about two inches from the edge there is a small piece of white metal. At the bottom of the left sub-panel created by the vertical metal pieces there is the manufacturers logo. On the right sub panel, in the center, there is a reset button. Below that button there is an on/off rocker switch. The larger central part of the front panel is blank. On the right side are two vents formed by a series of oblong horizontal holes behind which are mounted cooling fans. On the left side directly opposite the vents on the right side is another pair of vents. At the back on the left side there is an ivory duplex grounded outlet. Below the receptacle there is a rectangular recessed plug. The right side of the back panel has a rectangular cutout about 3 1/2 x 4 inches through which two cables, which terminate in with 50 connector sockets, extend. There is also a 25 connector ribbon cable coming from the same cutout, with a 25 pin d-pin at the end There are three one D shaped cutouts labeled, from top to bottom in marker, "PORT A, " "PORT B," "3M/ENET." Opposite "PORT A" there is a smaller D shaped cut out. Emerging from the cut out to the right of port A there is a 15 conductor sheathed ribbon cable that terminates with a 15 pin d-connector attached to a metal plate which is fitted with two machine screws.
Category
interconnect/other
Credit
Gift of Bob Vaughan