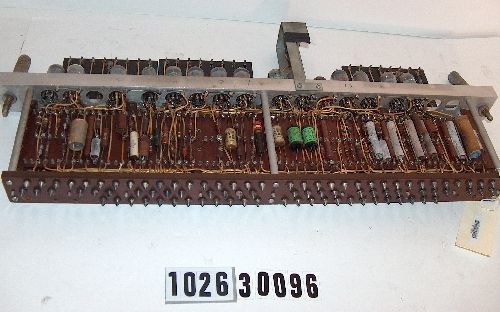 Title
UNIVAC I logic module
Date
1951 ca.
Manufacturer
Remington Rand, Inc.
Place Manufactured
U.S.
Identifying Numbers
Other number
2.779-12 P6G 0942
2.779-12 P6G 0942 original adhesive label on top of frame
Other number
Position: P6 G on engraved label
Serial number
2779 D 12 on engraved label
Dimensions
2 1/2 x 24 x 11 1/2 in.
Description
Object is a circuit board enclosed in a metal frame. Along the top edge of the frame are a series of vacuum tubes. Down the center are resistors, capacitors and other components on plastic circuit boards.
Category
Component: circuit board / module
Credit
Gift of Mac McLaughlin