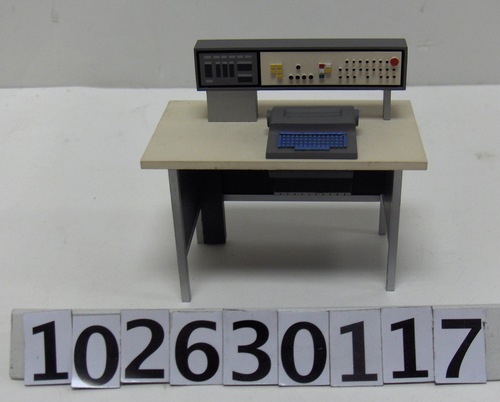 Title
Sales model of an IBM 1447 computer
Description
This object consists a model of a IBM 1447 console, which was a part of the IBM 1440 system. Construction appears to be plastic cast around wood with added details. Model depicts a table with a cutout on the back and blue keyboard and 1447 console on top of the table. There is a strip of residue on the left back corner of the table.
Date
c. 1980s
Manufacturer
International Business Machines Corporation (IBM)
Place Manufactured
Unknown
Identifying Numbers
| | | |
| --- | --- | --- |
| Model number | 1447 | On label on bottom |
Dimensions
overall: 3 3/4 in x 4 in x 2 3/8 in
Category
Ephemera/other
Curator Notes
When selling large, expensive computer systems, many manufacturers created salesman models to help customers visualize what they were buying as well as to assist in planning where and how to install these complex room-sized computer systems.
Credit
Gift of Mac McLaughlin