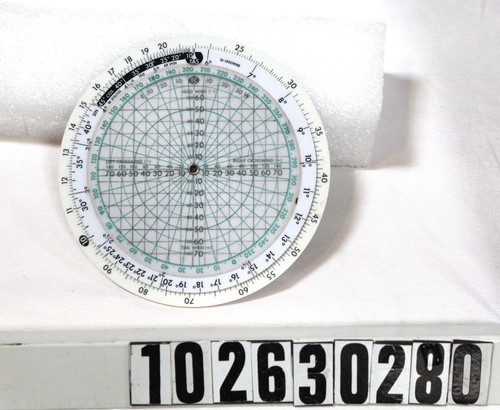 Title
Jeppensen slide flight computer
Description
Jeppensen slide flight computer consists of four plastic wheels and ruler. Printed text on middle of front wheel includes "Jeppesen model CR-2 computer". Front of computer indicates text for calculating air speed, temperature, and altitude. The back indicates text for calculating crosswinds. Smudge on ruler left of center hole.
Date
1955 ca.
Manufacturer
Jeppensen
Place Manufactured
U.S.
Identifying Numbers
Model number
CR-2
Other number
see note
Copyright date 1955, Patent number 2528518, 2767919, 2775404
Dimensions
1/8 x 4 1/4 x 4 1/4 in.
Category
Pre-computer/slide rule
Credit
Gift of J.A.N. Lee