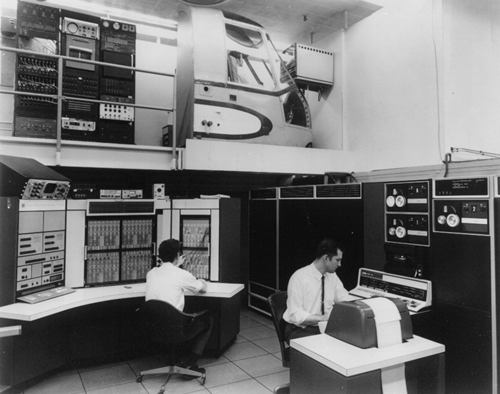 Title
DEC PDP-10 and Applied Dynamics AD/FOUR
Description
In the lower-right quadrant of the photograph, a man sits in front of what appears to be a teletype or printer and looks at the control panel of a Digital Equipment Corporation (DEC) PDP-10 digital computer. In the lower-left quadrant of the photograph, a man sits facing a patch panel on an Applied Dynamics, Inc. AD/FOUR analog computer. A third man sits inside a helicopter cockpit mock-up at the center-top of the photograph.
The first unit of the earliest version of the PDP-10 computer, the KA10, reportedly was shipped in late 1967, and the AD/FOUR computer reportedly was introduced in 1966. Therefore, it appears that this photograph must have been taken no earlier than about 1968.
A typed description was attached to the image. That description read, "At Sikorsky Aircraft in Connecticut, a DECsystem-10 is used to design and test specifications for safer helicopters. This installation uses the System 10 to simulate flight conditions with new helicopter designs." Also, written in blue ink, "(c1970)," and written on a yellow "post-it" tag, "DEC PDP10 (60s)."
Date
ca. 1968
Dimensions
8 x 10 in.
Format
Photographic print
Category
Identification photograph; Publicity photograph
Subject
Digital Equipment Corporation (DEC); PDP-10
Credit
Courtesy of Gwen Bell