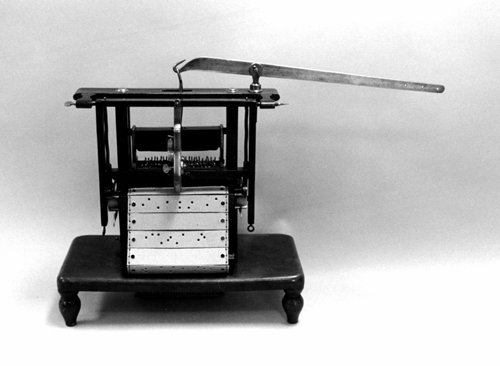 Description
Black and white. Side view of the (J. M.) Jacquard Loom. Hold on top is attached to cylinder with "spikes" on a wooden-looking platform. Typed "Photographic Vital Statistics: Name: Jacquard Loom; Manufactor: Joseph Marie Jaquard; Year Built: 1810; Source: The Computer Museum; Negative Number: R106-4; Description: the Jacquard Loom is the predecessor of modern punch-card computers. The punch cards carried instructions that controlled the weaving of intricate patterns." Also label attached on back of photo reads: This photograph may not be reproduced without written permission of the Photographic Archives of The Computer Museum, Boston, MA."
Identifying Numbers
| | |
| --- | --- |
| Other number | P2058 |
| Other number | P96 |
Dimensions
8 x 10 in.
Format
Photographic print
Category
Publicity photograph; Snapshot
Credit
Courtesy of Gwen Bell