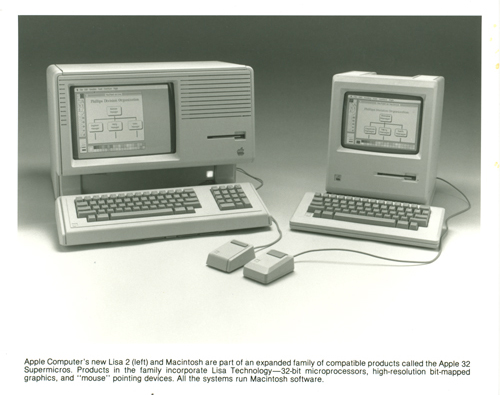 Title
Apple Lisa 2 and Apple Macintosh
Publisher
Apple Computer, Inc.
Dimensions
8 x 10 in.
Format
Photographic print
Description
Black and white identification photograph of the Apple Lisa 2 and the Apple Macintosh. Both computer monitors have an image of a "Philips Division Organization" flowchart. The two mouses, each from one computer, are in the foreground center side by side. There is a 3/8 inch white border on the top and on both the left and right sides. The border on the bottom is slightly over one inch and contains the following text: "Apple Computer's new Lisa 2 (left) and the Macintosh are part of an expanded family of compatible products called the Apple 32 Supermicros. Products in the family incorporate Lisa Technology -- 32-bit microprocessors, high-resolution bit-mapped graphics, and 'mouse' pointing devices. All the systems run Macintosh software."
Category
Identification photograph; Publicity photograph
Subject
Macintosh (Computer); Apple Lisa (Computer); Apple Computer, Inc.
Credit
Gift of CHM AppleLore