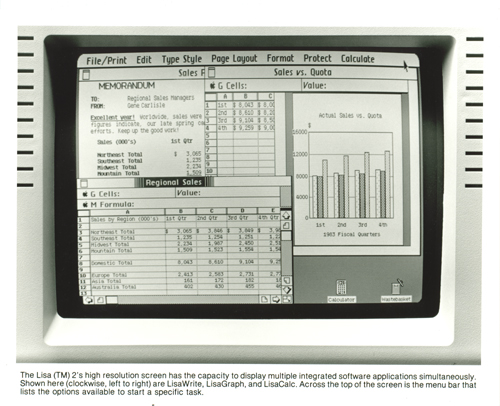 Title
Apple Lisa screenshot
Publisher
Apple Computer, Inc.
Dimensions
8 x 10 in.
Format
Photographic print
Description
Black and white identification screenshot of the Apple Lisa. The screenshot shots images of an "Actual Sales vs. Quota" bar hart, a "Regional Sales" spreadsheet and a "Memorandum TO: Regional Sales Managers FROM: Gene Carlisle." A small amount of the monitor frame shows on the top, bottom, left and right. Below the photograph is an identification caption which reads: "The Lisa (TM) 2's high resolution screen has the capacity to display multiple integrated software applications simultaneously. Shown here (clockwise, left to right) are LisaWrite, LisaGraph, and LisaCalc. Across the top of the scren is the menu bar that lists the options available to start a specific task."
Category
Identification photograph; Publicity photograph
Subject
Apple Lisa (Computer); Apple Computer, Inc.
Credit
Gift of CHM AppleLore