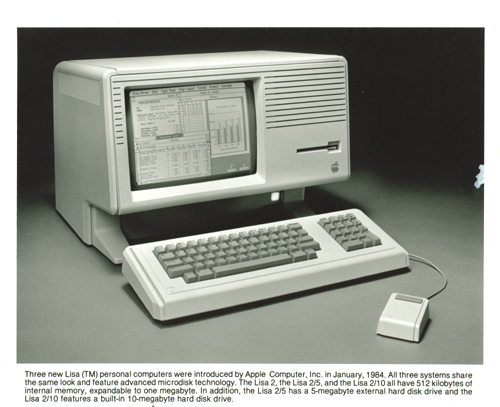 Publisher
Apple Computer, Inc.
Dimensions
8 x 10 in.
Format
Photographic print
Description
Black and white identification image of Apple Lisa with main terminal, keyboard and mouse. Foreground is light grey, receding into black in teh upper edges of the photograph. Below is identification text about Apple Lisa, which reads: "Three new Lisa (TM) personal computers were introduced by Apple Computer, Inc. in January, 1984. All three systems share the same look and feature advanced microdisk technology. The Lisa 2, the Lisa 2/5, and the Lisa 2/10 all have 512 kilobytes of internal memory, expandable to one megabyte. In addition, the Lisa 2/5 has a 5-megabyte external hard disk drive and the Lisa 2/10 features a built-in 10-megabyte hard disk drive."
Category
Identification photograph; Publicity photograph
Subject
Apple Lisa (Computer); Apple Computer, Inc.
Credit
Gift of CHM AppleLore