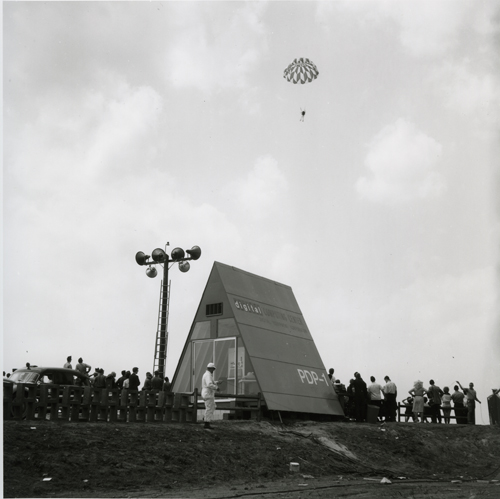 Title
History - PDP-1 at the Sixth World Sport Parachute Championships
Description
Black and white image of several people standing outside watching parachutist coming down from the sky. In the center of the photo is a small triangular-shaped building with "Digital Computing Center : Digital Equipment Corporation PDP-1" printed on the side of the roof. A DEC PDP-1 is housed inside. This was collected along with other photos under DEC photo library identification number 10159, which consists of a group of historical photographs.
Date
ca. 1962
Publisher
Digital Equipment by Utrecht, the Netherlands
Identifying Numbers
| | | |
| --- | --- | --- |
| File number | 10159 | DEC identification number |
Dimensions
10 x 8 in.
Format
Print
Category
Publicity photograph; Identification photograph
Subject
PDP-1 (Computer); Digital Computer Corporation (DEC)
Collection Title
Digital Equipment Corporation records
Series Title
Still images: General slides and transparencies
Credit
Gift of Hewlett-Packard Company