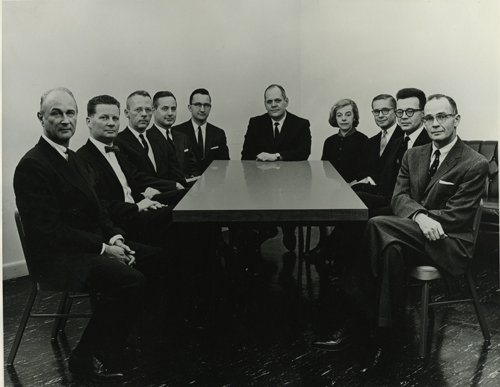 Title
History - DEC's first board of directors
Description
Black and white image showing DEC's first board of directors. From left to right: Harry Hoagland, Jack Barnard, Jay Forrester, Bill Congleton, Harlan Anderson, Ken Olsen, Dorothy Rowe, Vernon Alden, Arnaud de Vitry, and Wayne Brobeck. This was collected along with other photos under DEC photo library identification number 10159, which consists of a group of historical photographs.
Date
ca. 1960
Publisher
Digital Equipment Corporation (DEC)
Identifying Numbers
File number
10159
DEC identification number
Other number
15371-T
Other number
8524-S
Dimensions
8 x 10 in.
Format
Print
Category
Publicity photograph; Identification photograph; Group portrait
Subject
Digital Computer Corporation (DEC); Rowe, Dorothy; Barnard, Jack; Anderson, Harlan; Forrester, Jay; De Vitry, Arnaud; Hoagland, Harry; Alden, Vernon; Brobeck, Wayne; Olsen, Ken; Congleton, Bill
Collection Title
Digital Equipment Corporation records
Series Title
Still images: General slides and transparencies
Credit
Gift of Hewlett-Packard Company