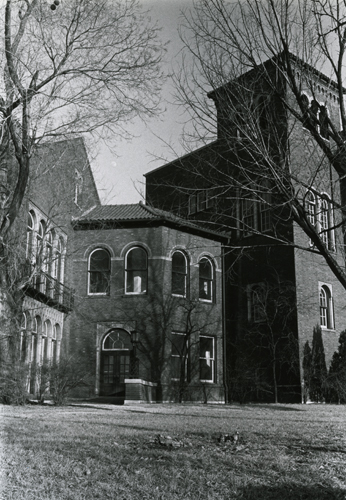 Date
1962 ca.
Publisher
Massachusetts Institute of Technology (MIT). Lincoln Laboratory
Place of Publication
Cambridge, MA, US
Dimensions
10 x 8 in.
Format
Photographic print
Description
This is a black and white image of the Cambridge quarters of Lincoln Lab's biomedical computer operation after severing their affiliation with Lincoln Lab. This is a daytime view from the grounds. There are several trees in front of the buildings. The LINC (Laboratory Instrument Computer) was designed and constructed by Wesley Clark at M. I. T.'s Lincoln Laboratory, it was the first computer able to process data from laboratory experiments in real time. Initially used in biomedical studies, LINC was inexpensive ... less than $25,000 ... and small enough to fit in crowded quarters. Written on verso side is "1669".
Category
Identification photograph; Publicity photograph
Subject
Massachusetts Institute of Technology (MIT)--History
Credit
Courtesy of Gwen Bell