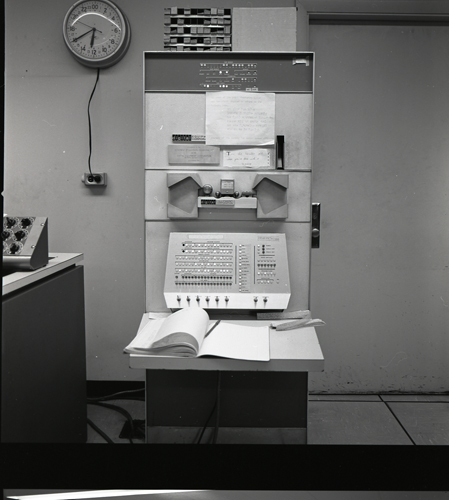 Title
History - PDP-1 at MIT
Description
Black and white film negatives showing the PDP-1 system at MIT, with and without people working near it. These images were collected along with other photos under DEC photo library identification number 10159, which consists of a group of historical photographs.
Date
ca. 1962
Publisher
Digital Equipment Corporation (DEC)
Place of Publication
Cambridge, Mass., U.S.
Identifying Numbers
File number
10159
DEC identification number
Other number
7213
Dimensions
2 1/4 x 2 1/4 in.
Format
Negative
Category
Film negative; Identification photograph; Publicity photograph
Subject
Digital Computer Corporation (DEC); PDP-1 (Computer)
Collection Title
Digital Equipment Corporation records
Series Title
Still images: General slides and transparencies
Credit
Gift of Hewlett-Packard Company