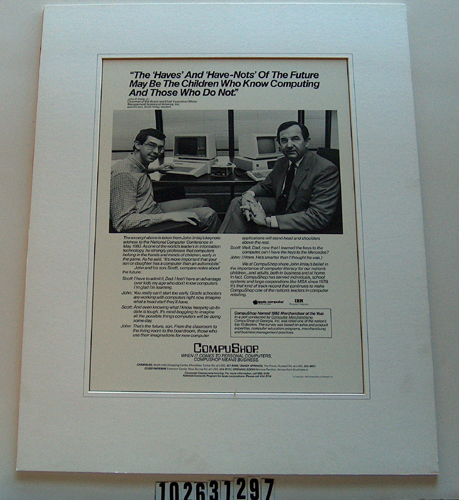 Title
Compushop - Literacy
Publisher
CompuShop
Dimensions
24.75 x 19.75 in
Format
Photographic print
Description
Black and White poster with image of John Imlay CEO and his son, Scott, a student seated in front of two personal computers (an Apple and an
IBM PC).
The text contains excerpts from Mr. Imlay's keynote address to the 1983 National Computer Conference.

The 'Haves' and the 'Have-nots' of the future may be the children who know computing and those who do not.
CompuShop
WHEN IT COMES TO PERSONAL COMPUTERS, COMPUSHOP MEANS BUSINESS.


Also has Apple and IBM logos.
Category
Poster
Collection Title
John P. Imlay papers
Series Title
A/V material
Credit
Gift of John Imlay