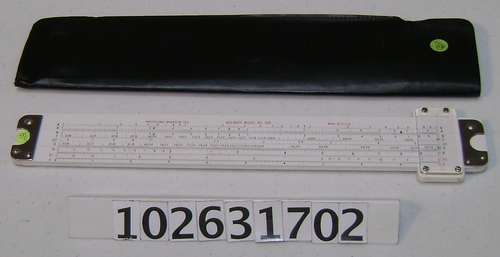 Title
Acu-Math slide rule
Date
1955 ca.
Manufacturer
Acu-Rule Co.
Place Manufactured
U.S.
Identifying Numbers
Model number
900
Other number
S136
Donor's ID number for rule
Dimensions
overall: 3/4 in x 12 1/2 in x 12 1/4 in
Description
The object consits of a slide rule and a leather case. Both the case and the slide rule have yellow adhesive stickers with the donor's ID number handwritten in black ink.
Category
Pre-computer: slide rule
Credit
Gift of Mike Konshak