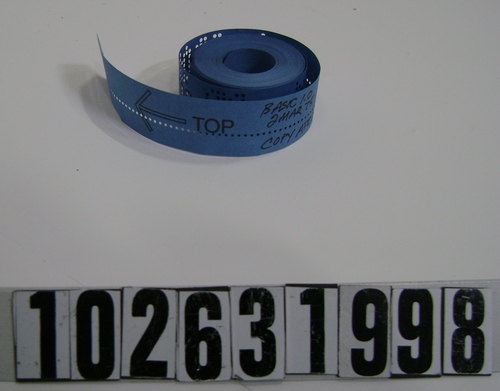 Title
Altair BASIC Interpreter source tape, replica
Description
Dimensions are with tape rolled. Replica of original paper tape.

The Altair 8800 kit was introduced as the cover story on the January 1975 edition of Popular Electronics. Though 'home-brew' experimental systems existed well before the Altair, none had the Altair's wide- reaching popularity. Word length: 8 bits. CPU Circuitry: Intel 8080. Primary Memory: 256 Bytes. Price: $ 397. The Altair inspired Bill Gates, then at Harvard University, to write a BASIC interpreter so that users could easily program the machine. This was the start of Microsoft. MITS was sold to Pertec and the Altair line did not last long. Paper tape was signed by Bill Gates during his appearance at the museum on Oct. 1, 2004 (acid free pen used for signature).
Date
2002-04-07
Publisher
Gates, Bill Jr.
Version
Preservation copy
Dimensions
overall: 1 in x 1 13/16 in x 1 13/16 in
Format
Paper tape
Subject
Homebrew; Computer language; Software; Allen, Paul; Gates, Bill
Credit
Gift of Bill Gates Jr.