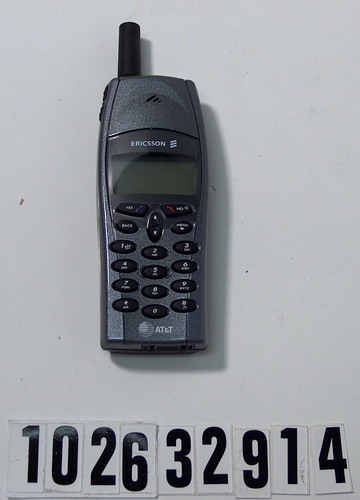 Title
WAP-enabled cellular telephone
Manufacturer
Ericsson / AT&T
Place Manufactured
U.S.A.
Identifying Numbers
Model number
R280LX BACTC
Other number
EID: 0080378727ED
Other number
ESN: 146-14403821
Other number
KRC 113 380/73 R2B
Transceiver number: KRC 113 380/73 R2B
Serial number
UA201BDTD0 (telephone); 01812632CTDANP (battery)
Dimensions
1 x 2 x 6 1/4 in.
Description
Battery required: Ericsson Type 30000020 4.8V 800mAh Ultra Slim; Sticker on inside of battery reads "Property of phone./com (650) 996-7341".
Category
Networking/telephone/cellular
Credit
Gift of Openwave Systems Inc.