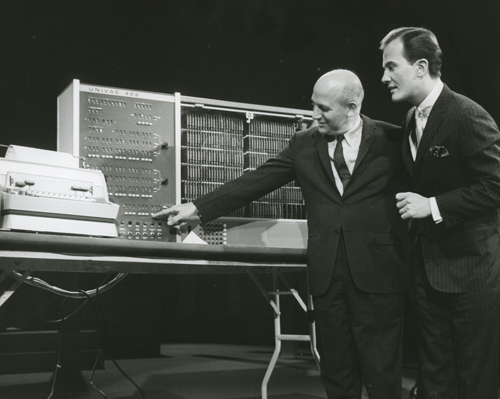 Title
J. Presper Eckert and Pat Boone with Univac 422
Description
This is a black and white image of J. Presper Eckert, on the left, pointing to the Univac 422 machine with his right hand. Pat Boone is on the right looking at where Eckert is pointing to. Both men are wearing suits and ties. The background is black. There is a typewriter/printer on the left side of the image.
Date
1965-03-24
Publisher
Regency Pictorials, Inc.
Dimensions
8 x 10 in.
Format
Photographic print
Category
Publicity photograph; Identification photograph; Television still
Subject
Boone, Pat; Univac 422 (Computer); American Broadcasting Companies, Inc. (ABC); Eckert, J. Presper, Jr.
Collection Title
J. Pres Eckert papers
Series Title
Photographs
Credit
Purchase of the Computer History Museum