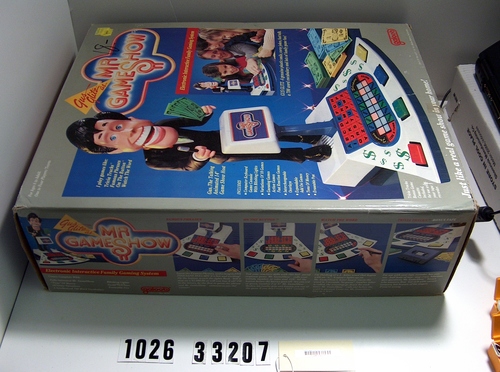 Title
Mr. GameShow Electronic Interactive Family Gaming System
Description
Item consists of: Outer cardboard box, Gus Glitz doll, game base, detatched game base marquee, 6 foot black audio cable with 1/8 in. plugs on ends tied with cotton tape, 1 red and 1 blue felt tip pen, 1 Phillips audio casette containng game programs, 3/4 inch stack of toy money, 2 game base overlays, 5 "QUOTE" playing cards.
Date
1987 ca.
Manufacturer
Lewis Galoob Toys, Inc.
Place Manufactured
China
Identifying Numbers
Model number
4704
Other number
1986, 1987
1986, 1987 copyright dates molded in bottom of game base
Other number
4724604707 bar code on outer box
Dimensions
in box: 6 x 17 x 15 in
Copyright Holder
Lewis Galoob Toys, Inc.
Category
Game