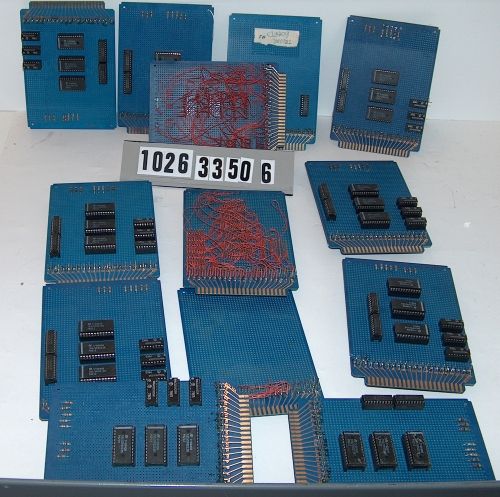 Title
Prototype (hobby?) wire wrap boards
Dimensions
overall: 1 in x 6 1/2 in x 4 1/2 in
Description
Object consists of 13 individual boards (11 of one type and 1 each of two more types).
The boards are designed to plug into some type of board, and are hand wire-wrapped.
Boards #1-9, #12, #13 consist of 3x 7813 DIPs, 2x 74LS244 DIPs, 3x 8212 DIPs, and 8 resistors.
Board #10 consists of 2x 74LS244 DIPs, and 2 resistors. "DRIVER BOARD #1" is written on a piece of masking tape affixed to the board.
Board #11 is a blank board with some wires connecting the edge connection wire wrap pins.
Category
Component/module