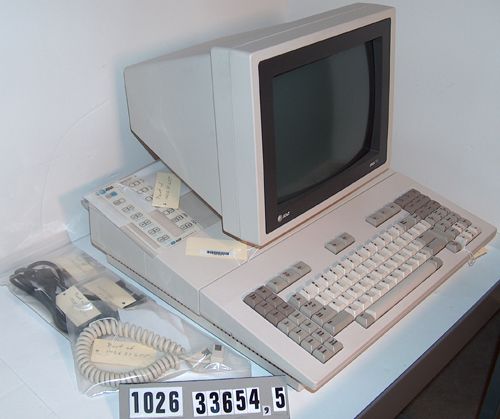 Title
UNIX PC CPU and monitor unit
Date
1985
Manufacturer
AT&T Information Systems
Place Manufactured
U.S.
Identifying Numbers
Model number
UNIX PC
Other number
3704290250304974
3704290250304974 is printed on a barcode label affixed to the bottom of the rear "horn" of the integrated CRT monitor on the top of the CPU box.
Serial number
370429025 030497
Dimensions
overall: 15.5 x 18 x 17 in
Description
This object consists of an integrated CPU box and CRT monitor, apparently permanently connected by a swivel assembly, a detachable power cable with standard connectors at each end, and the original manufacturer's shipping box and related packing inserts. The lower left-hand corner of the front panel is labeled "20MB.". There is a 5 1/4-inch floppy-disk drive on the left-hand side of the CPU unit. There is a cardboard drive-head protection sheet installed in the drive. There is an unlabeled slider control under the edge of the top part of the CPU unit case, on the right-hand side of the case, near the front. The bottom edge of the frame around the monitor screen is labeled "AT&T" and "UNIX PC.". There is a recessed connector with eight pins in two rows of four pins each near the right-hand side of the top surface of the object. This connector matches the connectors on the data cable that accompanies the related keyboard. The back of the CPU box has the following connectors: three 8-wire RJ-45 connectors labeled "Line 1," "Line 2," and "Phone," one DB-25-S connector labeled "DTE RS 232," and one 36-terminal Centronics-type socket labeled "Printer." The DB-25-S connector has a null modem connected to it. There also is an access panel with an unlabeled DB-25-P connecter. That connector had a blank DB-25-S plug installed. The blank DB-25-S plug and the null modem were removed from the unit and bagged separately to minimize the potential for damage, because they protruded beyond the back of the unit. There are two other blind access panels and an integrated rocker switch, fuse block, and IEC-320-C14 power inlet on the back of the unit.. The packing box is labeled "AT&T" and "UNIX PC" on two sides and on top. One of those sides also has a Federal Express Standard Air label. The box is labeled "UNIX PC" and "Handle with care" on the other two sides, which also show handling instruction pictograms. Numerous shipping tags also are affixed to one of those latter two sides. Those tags indicate that the total system was shipped from AT&T to Robert I. Roelofs, M.D., in Minneapolis, MN, based on an order dated on or about September 15, 1987. Another tag bears the serial number of the CPU unit and describes the "product" as: "UNIX PC - 1 MB CPU, 20 MB." That label also bears a picture of the combined CPU, monitor, and keyboard.
Category
Digital computer/personal computer/desktop
Credit
Gift of Greg Roelofs