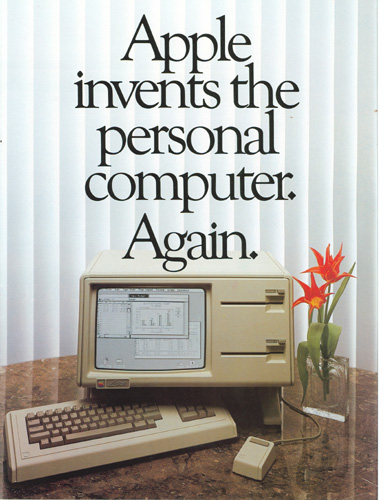 Title
Apple Invents the Personal Computer. Again.
Description
Four color brochure for the Apple Lisa personal computer. The front cover has a picture of a Lisa computer with mouse and keyboard sitting on a granite-top desk with a square glass vase containing two orange flowers next to it and closed white vertial blinds behind it. The title is written in large black text immediate above the computer, with the last word, "Again." crossing over the top of the computer. Subsections include: Introducing Lisa. The personal computer for the office.; So advanced, you already know how to use it.; and It took 200 years to develop programs you can learn in 20 minutes. Pages 3 and 4 show a series of icons and screenshots in boxes explaining Lisa's functions and usability. The last page shows a man sitting at the Lisa, on the same desk as on the front, with a silver coffee cup and a larger bouquet of the same type of flowers show on the front cover. A potted plant is to his right. The back cover shows the lower edge of the Lisa with various icons lined up along the bottom of the monitor. The mouse sits atop a brochure for the Lisa. The caption reads: Now that you know where the world's going, consider the advantages of getting there first. Below is the contact for more information on Lisa computers. The apple logo is on the lower right cover of the back cover. The lower left corner of the back cover has a small round green sticker with the handwritten number 10 in black ink.
Date
1983
Publisher
Apple Computer, Inc.
Identifying Numbers
| | |
| --- | --- |
| Other number | 10 |
| Other number | A6L0016 |
Extent
6 p.
Dimensions
10 3/4 x 8 1/8 in.
Copyright Holder
Apple Computer, Inc.
Category
Promotional Material
Subject
Personal applications; Business applications; Software; Apple Computer, Inc.; Apple Lisa (Computer); promotional materials; Digital computer : personal
Credit
Gift of CHM AppleLore