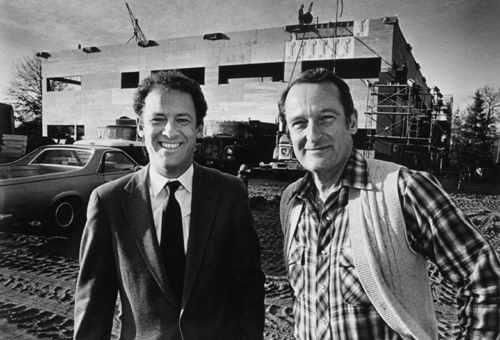 Title
Seymour Cray and John Rollwagen
Description
Black and white image of Seymour Cray on left and John Rollwager on right standing in front of cooling system prototype. Caption on bottom edge: John A. Rollwagen (left), president of Cray Research, Inc., and founder Seymour Cray are pictured in front of the new Riverside Project facility under construction in Chippewa Falls, Wisconsin. When completed in the spring of 1982, this facility will be devoted to CRAY-2 computer development and production.
Date
1981 ca.
Place of Publication
Chippewa Falls, WI, US
Dimensions
8 1/2 x 11 in.
Format
Photographic print
Copyright Holder
Cray Research, Inc. (CRI)
Category
Identification photograph; Publicity photograph
Subject
Cray, Seymour; Rollwagen, John; Cray Research, Inc. (CRI)
Credit
Courtesy of Gwen Bell