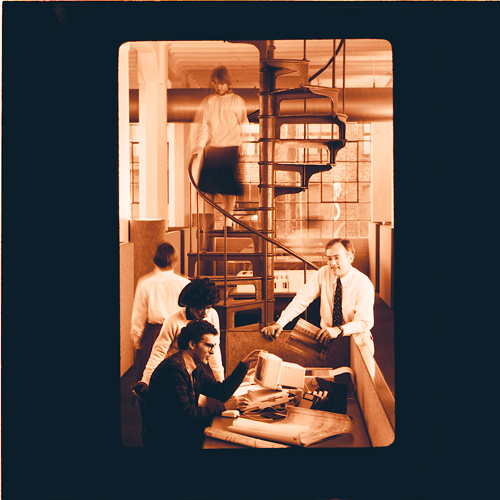 Title
Man and woman working on Apple computer
Dimensions
4 3/4 x 4 in.
Format
Transparency
Description
Black and white image of side view of man sitting at computer with proper left hand resting on top left edge of monitor and proper right hand on keyboard. To man's proper left side is a woman leaning over his shoulder and looking at monitor with proper right arm resting on back of man's chair. Directly in front of this man and woman, and behind the computer, is a standing man with arms resting on the top edge of the desk with a paper in his proper left hand. A woman in a skirt is walking down the spiral stairs to the left of two men and one woman with her proper right hand on rail. Below woman on stairs is a man walking towards the back of the room with back side facing image at lower left quadrant. [Sept. 15, 2004 JMA]
Category
Publicity photograph; Identification photograph
Subject
Apple Computer, Inc.
Credit
Gift of AplinUnoCreative