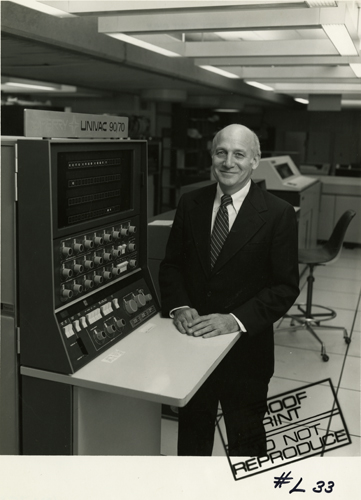 Title
J. Presper Eckert and the Sperry Univac 90/70
Description
This is a black and white image of J. Presper Eckert standing in front of a Sperry Univac 90/70 computer. The computer has several rows of dials. He is wearing a suit and tie. Mr. Eckert is smiling and looking at the camera. His hands are resting in front of him on top of a white shelf that is part of the Univac. Light is coming from the ceiling lights. Stamped on verso side is "PROOF PRINT ONLY (C) Walter Holt 19____ Please credit: Walter Holt P.O. Box 919 Bryn Mawr Penna. 19010 215/LA5-8040". Stamped on recto side as part of the image is "PROOF PRINT DO NOT REPRODUCE". Written in black ink on recto side bottom right corner is "#L-33". Written on verso side in pencil is "L33".

Written in pencil on small round white label affixed to original protective sleeve is "1365-3".
Date
1970-1979
Photographer
Holt, Walter
Identifying Numbers
| | |
| --- | --- |
| Other number | L-33 |
| Other number | OOC 1365-3 |
Dimensions
11 x 8 1/2 in.
Format
Photographic print
Copyright Holder
Holt, Walter
Category
Publicity photograph; Identification photograph; Trial proof
Subject
Univac 90/70 (Computer); Eckert, J. Presper, Jr.
Collection Title
J. Pres Eckert papers
Series Title
Photographs
Credit
Purchase of the Computer History Museum