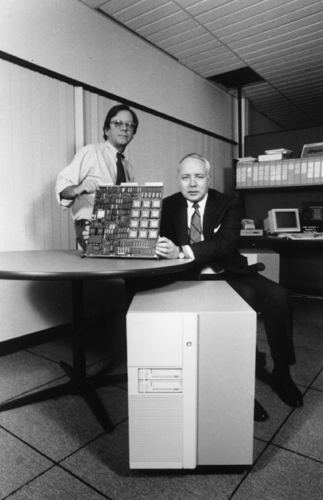 Title
Data General AViiON system
Publisher
Data General Corporation (DGC)
Dimensions
7 x 5 in.
Format
Photographic print
Description
Black and white image of the Data General AViiON system. Caption on seperate paper:

"SOUL OF A NEW MACHINE - Electronic circuit board held by Data General President and CEO Ronald L. Skates (r.) and Tom West, the company's
senior vice president of advanced systems development, includes the complete internal electronics inside Data General's new AViiON high- end computer, unveiled during a world-wide press conference March 13. The new AViiON system processes 117 million instructions per second, or MIPS, for less than $100,000, providing the same levels of power as a multi-million dollar mainframe computer. The board is essentially the soul of the new machine, highly reminiscent of Tracy Kidder's Pulitzer prize winning book of the same name, published a decade ago about an earlier-generation Data General Computer, which also featured Tom West.

Contacts: Joel Strasser / Richard Dukas
Kahn Communications Group
212-889-1200

Jim Dunlap Stephanie Bigusiak
DATA GENERAL DATA GENERAL
508-870-8162 508-898-4083 "

Category
Identification photograph; Publicity photograph
Subject
Data General Corporation
Credit
Courtesy of Gwen Bell