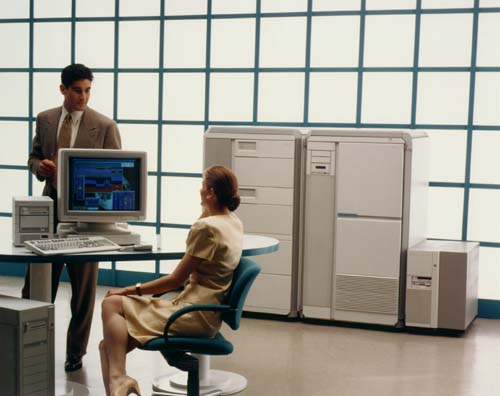 Title
Data General AViiON system
Description
Color image of Data General's new AViiON Computing systems. Caption on separate paper:
"Data General's new high performance, high availability AViiON systgems deliver powerfful mainframe-level computing at breakthrough prices. In the background (from left to right) Data General's new 117 MIPs AV 8000 system performs with the support of a 24 gigabyte High Availability Disk Array (HADA) subsystem. In far right is a new AV 7000 desk-side office system.
In the foreground, a 12 gigabyte Combined storage Subsystem 2 disk array is housed under a desk top of a customer computing with an AViiON AV 300 workstation."

Publisher
Data General Corporation (DGC)
Dimensions
8 x 10 in.
Format
Photographic print
Category
Identification photograph; Publicity photograph
Subject
Data General Corporation
Credit
Courtesy of Gwen Bell