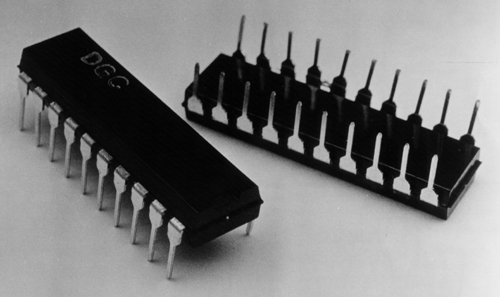 Title
Data General's 4K RAM used in NOVA 3
Description
Black and white image of 2 4K RAM Nova 3 semiconductor Memory chips.
Caption on separate paper:
" Data General's 4K RAM used in Nova 3 semiconductor memories is an N-channel, dynamic MOS chips that are built with silicon-gate architecture. Die size is 124 x 148 mils; the Ram package has 20 pins. Chips are fabricated in Data General's Sunnyvale, California facility, then shipped to the company's Hong Kong subsidiary for wire-bonding and packaging. Completed 4K RAM's are returned to Sunnyvale for testing, then shipped to Data General's main computer manufacturing plant in Southboro, Massachusetts. -30- Nova is a registered trademark of Data General"

Publisher
Data General Corporation (DGC)
Dimensions
10 x 8 in.
Format
Photographic print
Category
Publicity photograph; Identification photograph
Subject
4K semiconductor memories
Credit
Courtesy of Gwen Bell