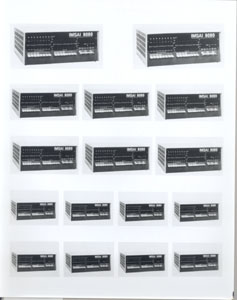 Title
IMSAI - Multiple images of IMSAI 8080
Description
b & w image of IMSAI 8080. 16 images of the IMSAI. The images are laid out in rows. The first row has two images which are about 1 1/2 x 3 1/8. Then there are two rows of the same image at 1.25 x 2.25. The last two rows are of the same image at 1 1/8 x 1 5/8.
Publisher
Information Management Science Associates, Inc.
Place of Publication
San Leandro, Calif.
Dimensions
8 x 10 in.
Category
Identification photograph; Publicity photographs; Trial proofs
Subject
Computer industry--History; Computers--History; IMSAI 8080 (Computer)
Credit
Courtesy of Gwen Bell