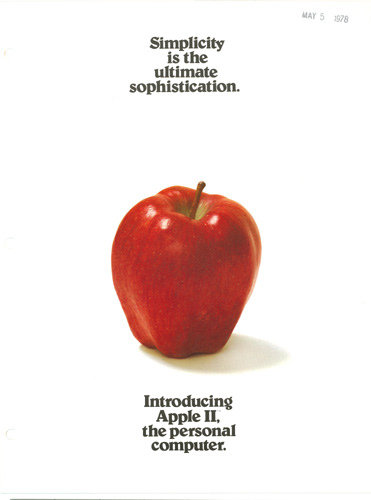 Title
Simplicity is the ultimate sophistication: Introducing Apple II, the personal computer
Description
This is a four-color brochure for the Apple II personal computer. The front cover has a date stamp of "MAY 5 1978" on the top, right corner. There is a color photograph of a red apple on a white background. The front inside cover has a color photograph of the Apple II with joysticks and tapes. There is a description of the Apple II and its distinction from "hobby" computer. There is an emphasis that it is not a computer kit and on the ease of its use. The Apple II connects to a television and has joysticks that connect to the unit. PONG and STARTREK are just some of the games that can be played on the Apple II. Programs can be written in Apple BASIC. On the center of the foldout, there is a color photograph of a woman and man playing a game on the Apple II. The following page describes the ease of programming the Apple II, and that programs can be saved on a cassette tape using a home cassette recorder and the built-in cassette interface. Various peripherals can be used for various applications. The back cover has a list of technical specifications of the Apple II.
Date
1977-04
Publisher
Apple Computer, Inc.
Place of Publication
U.S.
Extent
2 pages
Dimensions
11 x 8 3/8 in.
Category
Promotional Material
Subject
Digital computer : personal; Digital computer : personal; Entertainment/Gaming applications; Personal applications; promotional materials; Apple II (computer); Apple Computer, Inc.; BASIC (Software)