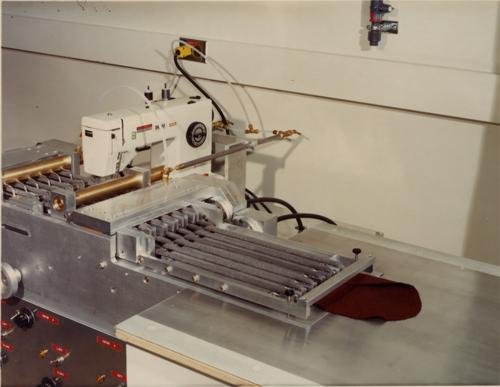 Title
Charles Draper Stark Laboratory 6 belt machine
Description
This is a color photograph of a robotic sewing machine. A regular sewing machine sits atop a conveyor belt as a piece of red fabric is being processed. There is a white wall behind the machine. In the foreground in the front left there is a panel with knobs, lights, switches, and red labels. Written on verso side of image is "119062-C".
Publisher
Charles Draper Stark Laboratory, Inc.
Place of Publication
Cambridge, MA, US
Dimensions
5 x 4 in.
Format
Photographic print
Category
Publicity photograph; Identification photograph
Subject
Charles Draper Stark Laboratory 6 belt machine; Robotics
Credit
Courtesy of Gwen Bell