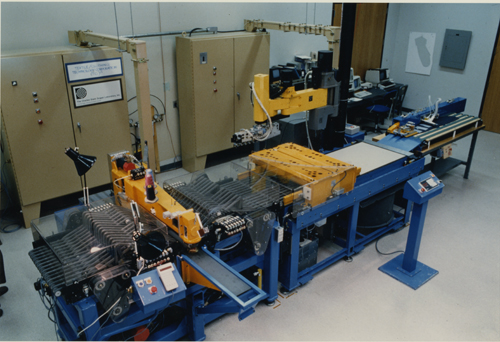 Title
Charles Draper Stark SN#0 machine
Publisher
Charles Draper Stark Laboratory, Inc.
Place of Publication
Cambridge, MA, US
Dimensions
8 x 10 in.
Format
Photographic print
Description
Color photograph of the SN#0 machine. It is mostly blue machine, with yellow areas that appear to be the sewing arms. Particularly the yellow portion of the machine to the left looks like an enlarged sewing machine. The machine has two different consoles. In the background of the picture are two beige boxes that are probably where the computer system for the sewing machine is housed. Written on verso side in blue pen is "134419-C".
Category
Publicity photograph; Identification photograph
Subject
Charles Draper Stark SN#0 machine; Robotics; Charles Stark Draper Laboratory, Inc.
Credit
Courtesy of Gwen Bell