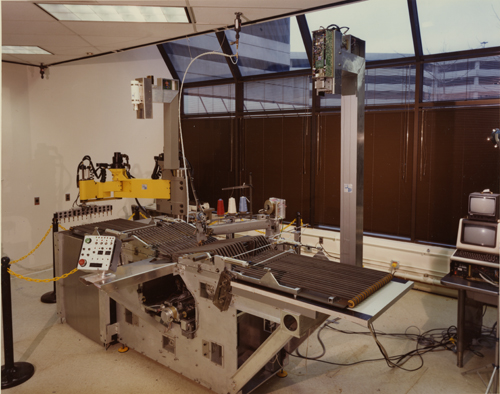 Title
Charles Draper Stark Pre-SN#0 machine
Publisher
Charles Draper Stark Laboratory, Inc.
Place of Publication
Cambridge, MA, US
Dimensions
8 x 10 in.
Format
Photographic print
Description
This is a color photograph of a Pre-SN#0 machine that is similar to the SN#0 (102438083). This machine is a large metal conveyor belt with a yellow mechanical arm. There is a console on the left side of the machine with several buttons. To the right of the machine is a computer with one keyboard, two monitors and what appears to be an I/O board. In the background of the picture are a wall of windows with blinds. Written on verso side is "125092-C".
Category
Publicity photograph; Identification photograph
Subject
Charles Draper Stark Pre-SN#0 machine; Robotics; Charles Stark Draper Laboratory, Inc.
Credit
Courtesy of Gwen Bell