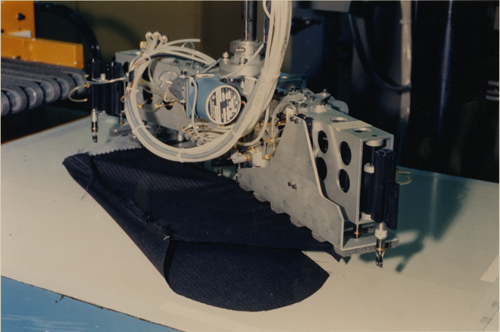 Title
Charles Draper Stark Spline sewing robot
Description
This is a color photograph of a Charles Draper Stark "Spline". This is a closeup shot of the mechanical arm with needle and thread spools visible. A bundle of gray and white cords connect the device to an unknown location that is out of the frame of vision of the photograph. A piece of what appears to be corduroy fabric lays on the table. To the left in the photograph can be seen the ends of a conveyor belt. Written on verso side is "134407-C".
Publisher
Charles Draper Stark Laboratory, Inc.
Place of Publication
Cambridge, MA, US
Dimensions
8 x 10 in.
Format
Photographic print
Category
Publicity photograph; Identification photograph
Subject
Charles Draper Stark Spline; Charles Stark Draper Laboratory, Inc.; Robotics
Credit
Courtesy of Gwen Bell