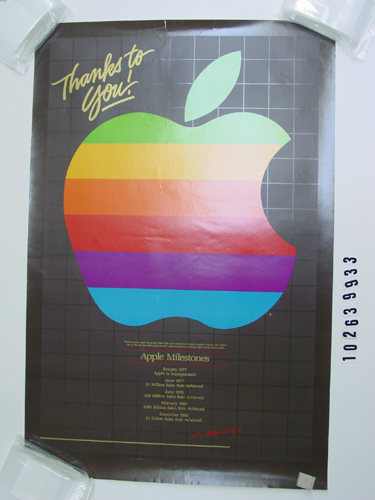 Title
Apple - Thanks to you!
Description
Color Poster with large Apple logo under it are financial milestones.
The poster is signed by A..C. Markula(sic).

Thanks to you, Apple Computer has grown faster than any company in modern business history. Our historic rise to the top has been made possible only through the combined efforts of all Apple People. January 1977 Apple is Incorporated. June 1977 $1 Million Sales Rate Achieved June 1978 $10 million Sales Rate Achieved February 1980 $100 million Sales Rate Achieved December 1982 $1 Billion Sales Rate Achieved
Date
Undated
Publisher
Apple Computer, Inc.
Dimensions
35 x 23 in
Format
Photographic print
Category
Other: See Description; Poster
Credit
Gift of CHM AppleLore