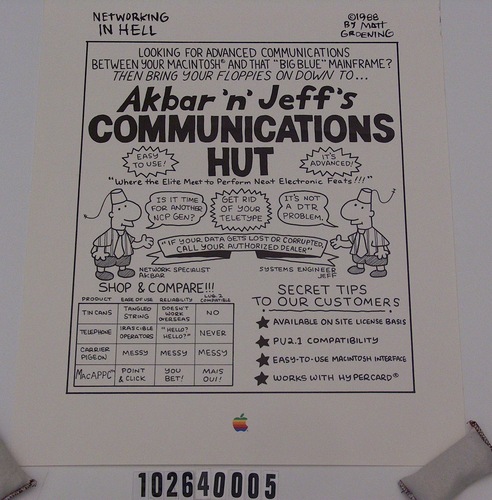 Title
Apple Communications Hut.
Publisher
Apple Computer, Inc.
Dimensions
23 x 16.5 in
Format
Photographic print
Description
Black and white whimiscal poster showing two 'traders' with their offerings. This is a parody of advertisements for electronic components in the trade press. A shop and compare chart for tin cans, telephone and the Mac is included. Also included are some secret tips to customers.

Networking in HELL By Matt Groening
.Looking for advanced communications between your Macintosh and that "Big Blue" Mainframe? then bring your floppies on down to Akbar and Jeff's Communication Hut.
Category
Other: See Description; Poster
Credit
Gift of CHM AppleLore