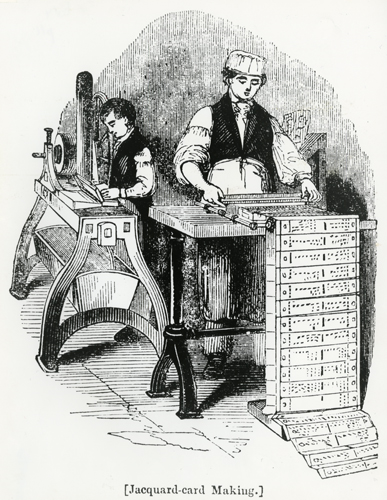 Title
"Jacquard-card Making."
Dimensions
10 x 8 in.
Format
Photographic print
Copyright Holder
Smithsonian Institution
Description
This is a black and white image. It appears to be of a woodcarving or ink drawing. There are two men making Jacquard-cards. One is in frotn of what looks somewhat like a sewing machine. The man on the right is worksing with a bunch of cards that are rolling off the back of his desk and onto the floor. It is mostly a white image. The caption "[Jacquard-card Making.]" is on the recto of the image. A stamp in black ink on the verso reads "SMITHSONIAN INSTITUTION WASHINGTON DC 20560 REPRODUCTION OR RESALE PROHIBITED WITHOUT WRITTEN PERMISSION NEGATIVE". Also written on the verso in black in is "Randell Figure 7" which has been crossed out with pencil, and "6" is written also is pencil. "10/4 p11" is written in the upper right corner in black ink. On a yellow post it note, "#8" (scratched out) and "#10 Jacquard Card Making Jacq" is written on it with ink. Written in black pen on bottom edge on verso side is "64425".
Category
Publicity photograph; Identification photograph
Subject
Jacquard card
Credit
Gift of J.A.N. Lee