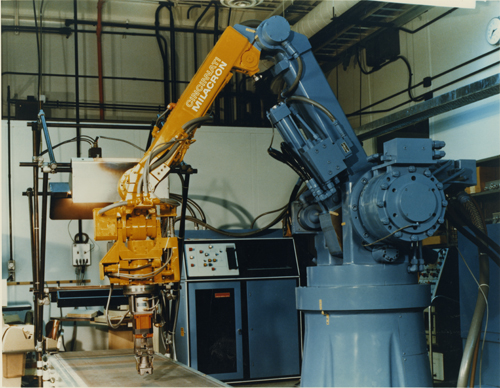 Title
Cincinnati Milacron T3 type robotic arm
Description
This is a color photograph of a robotic arm. The arm is main a pale blue color, by the front part of the arm is orange in color. It is pointed at a flat conveyor belt. Much of the photograph is the same pale blue as the robotic arm. Affixed to the verso of the photograph is a post it note with "1974" written on it in black ink. Also on the verso is written "1974 T3 NO C" in pencil very faintly near the accession number.
Date
1974 ca.
Dimensions
8 x 10 in.
Format
Photographic print
Category
Publicity photograph; Identification photograph
Subject
Robotics; Cincinnati Milacron, Inc.
Credit
Courtesy of Gwen Bell