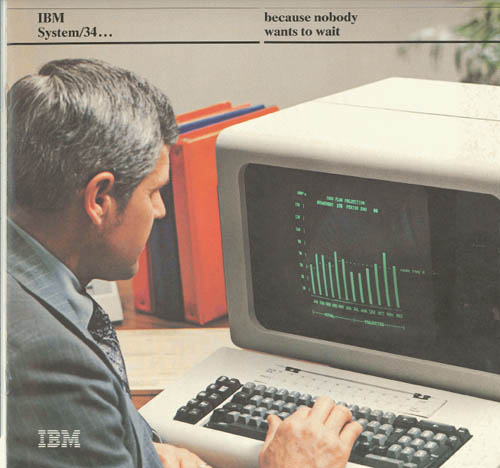 Title
IBM System/34...Because Nobody Wants to Wait
Description
The brochure introduces the System/34 as designed to function by distributing the processing load of multiple workstations. The brochure is printed in full color on white paper with the front cover showing a full page, photograph of someone using the System/34 workstation. The company logo is on both front and back covers. Throughout the brochure color photographs, some full page, show people using the System/34 in various settings, such as offices and warehouses. Text contents include: Productivity begins with business information at hand; Timely information...where it's needed; Immediate information...for better customer service; Accurate information... entered at the source; Dynamic information...for better management; All kinds of information...for all who need it; Printed information...when it's required; Accessible information...yet restricted for security; Distributing information...for large organizations; System/34...the accommodating system; Programming aids...to help get you on track; Expert support...to help keep you there; Add up the benefits; Take the next step.
Date
1977
Publisher
International Business Machines Corporation (IBM)
Place of Publication
U.S.
Extent
10 p.
Dimensions
9 x 9 in.
Copyright Holder
International Business Machines Corporation (IBM)
Category
Promotional Material
Subject
BASIC (Software); Scientific applications; Fortran IV (Software); International Business Machines Corporation (IBM); COBOL (Software); Digital computer: minicomputer; System/34 (Computer); Business applications; Software; promotional materials; RPB II (Software)
Credit
Gift of Thomas J. Buckholtz and Helen T. Buckholtz