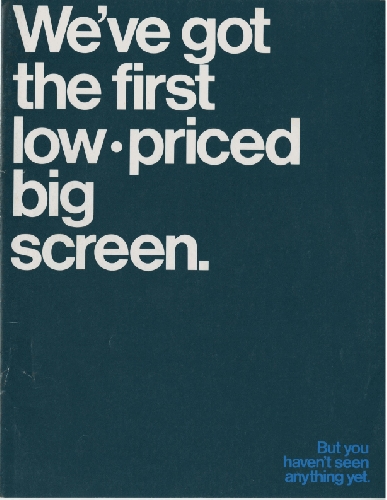 Title
We're got the first low-priced big screen.
Date
1974
Publisher
Tektronix, Inc.
Place of Publication
U.S.
Extent
6 p.
Dimensions
11 x 8 1/2 in.
Copyright Holder
Tektronix, Inc.
Description
The brochure introduces big screen computer display terminals as having expanded graphics capabilities. The brochure is printed in full color and opens into a poster showing a color photograph of the 19 in. Tektronix 4014-1/4015-1 terminal in its actual size. The front and back covers have blue backgrounds. The back cover provides facts about the display terminals and gives the company logo and address. Inside the front and back is a color photograph showing a partial view of the terminal's screen and a hand holding a ruler measuring the screen size. Text contents include: We're talking about Tektronix' big screen terminal with graphic capability never before possible at $8995; Chances are, you've been innovating with graphics long enough to know just what it can do...; Geophysical and seismic exploration; Industrial component and product design; Integrated circuit masking and printed circuit card layout; Architectural perspectives; Preview plotting; Mapping; 4014-1/4015-1/4014/4015 specifications; Now that you've got the facts, the picture is pretty clear.
Category
Promotional Material
Subject
4015 Computer display terminal (I/O terminal); I/O: terminal / Teletype; 4015-1 Computer display terminal (I/O terminal); Graphics applications; 4014-1 Computer display terminal (I/O terminal); 4014 Computer display terminal (I/O terminal); promotional materials; Tektronix, Inc.
Credit
Gift of Thomas J. Buckholtz and Helen T. Buckholtz