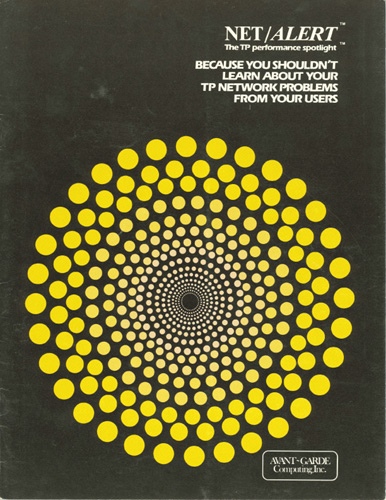 Title
Net/Alert: Because You Shouldn't Learn About Your IP Network Problems from Your Users.
Date
1970 - 1979
Publisher
Avant-Garde Computing, Inc.
Extent
5 p.
Dimensions
11 x 8 1/2 in.
Copyright Holder
Avant-Garde Computing, Inc.
Description
The brochure introduces Net/Alert as a revolutionary tool that shows how every terminal in a telecommunications system is performing. The brochure is printed in yellow, green, red, and black on white paper. The front cover is solid black and shows an geometric design of a wheel of yellow polka-dots that decrease in size toward the center. The back cover is white and shows a photograph of a spread sheet printout in dot-matrix font and the company logo. Inside page show labeled schematic diagrams, lists of computer functions, black and white photographs of the Net/Alert computer. At the centerfold, two half size pages fold out window shutter style to display color photographs that show data in graphs and charts from Net/Alert monitors. Text contents include: Net/Alert: the TP performance spotlight; Learn about your TP network problems from Net/Alert...not from your users!; Net/Alert tells you how your TP system is running right now...or why it's not!; Net/Alert technical information; Net/Alert provides the information you need to measure, analyze, and plan for the growth of your data communications system. Included in the brochure is a letter to Mr. Robert Rath, Planning Specialist at Pacific Gas & Electric on letterhead from Western Data Memories, Inc. from David Wagner that discusses the Net/Alert system.
Category
Promotional Material
Subject
Western Data Memories, Inc.; Business applications; Interconnect: network; Avant-Garde Computing, Inc.; Net/Alert (Computer); promotional materials; Software
Credit
Gift of Thomas J. Buckholtz and Helen T. Buckholtz