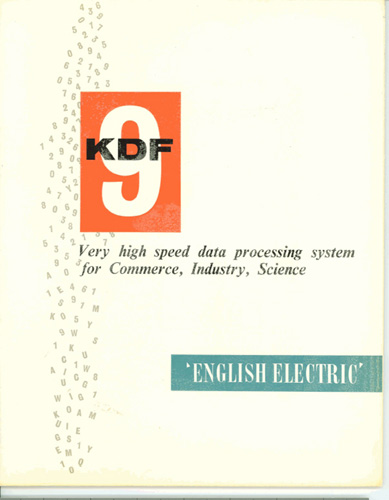 Title
KDF9: Very High Speed Data Processing System for Commerce, Industry, Science
Description
The brochure introduces the KDF9 Data Processing system as one of the most advanced electronic digital systems yet devised and traces the lineage of precusers of the KDF9 as starting in the early post-war years. The brochure is beautifully designed and includes a table of contents page and several full page foldouts. It is printed in blue, orange, and black on white glossy paper. The front cover shows KDF9 in a design motif that is continued throughout the brochure. Many pages show full page, color photographs of the KDF9; other photographs show people using the KDF9 and black and white close up photographs of component parts. Pages are solid colors, orange, blue, or white, and display full page and double page diagrams of KDF9 functions and operations, labeled drawings of the KDF9 set up in an office enviornment, and tables of technical data. Text contents include: The KDF9 lineage; Contents; KDF9: impression of complete installation; The KDF9 system; KDF9 storage systems; The breakdown of the KDF9 computer word; KDF9 programming; KDF9 control systems; The KDF9 time-sharing system; KDF9 operating speed; Use of KDF9 instruction code to evaluate; KDF9 peripheral devices; Off--line operations; KDF9 user services; Technical synopsis; After sales service; The 'English Electric' KDF9 data processing system. The business card of Prof. F R A Hopgood, Rutherford Appleton Laboratory, is included.
Date
1963
Publisher
English Electric
Place of Publication
U.K.
Identifying Numbers
| | |
| --- | --- |
| Other number | 09320WP |
| Other number | DP/103 |
| Other number | RP0961 |
Extent
33 p.
Dimensions
10 1/2 x 8 3/8 in.
Copyright Holder
English Electric
Category
Promotional Material
Subject
Scientific applications; Business applications; English Electric Data Processing and Control System Division; KDF9 (Computer); promotional materials; Digital computer: mainframe