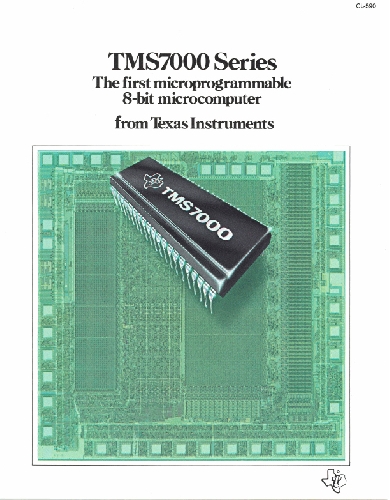 Title
TMS700 Series: the First Microprogrammable 8-bit Microcomputer from Texas Instruments
Date
1981
Publisher
Texas Instruments Incorporated (TI)
Place of Publication
U.S.
Identifying Numbers
| | |
| --- | --- |
| Other number | 85636 |
| Other number | CL590 |
| Other number | CS981 |
Extent
10 p.
Dimensions
11 x 8 1/2 in.
Copyright Holder
Texas Instruments Incorporated (TI)
Description
The brochure introduces the TMS7000 series as the first microprogrammable 8-bit microcomputer. The brochure is printed in black and white on gray paper, white paper on the front and back cover. The font cover shows a color photographic close up of the TMS7000's new microcomputer strip chip and gives the company logo. The back cover lists addresses of TI sales offices and distributors nationwide. Throughout the inside pages information about the TMS7000 series is provided in lists of instruction sets, flow charts, tables, and black and white photographs of microchips. Text contents include: A new concept in 8-bit microcomputer design; Unique microprogrammability capability; TMS7000 series features; Powerful instruction set; TMS7000 program flexibility; TMS7000 performance: versatile, powerful and fast; Advanced architecture for advanced I/O capability; TMS7000 series memory expansion modes; TMS7000 series design support; AMPL development system.
Category
Promotional Material
Subject
TMS740 (Computer); Pascal (Software); MACASM-Macro assembler (Software); MICASM-Micro assembler (Software); TMS720 (Computer); Software; Texas Instruments, Inc. (TI); TMS7000 Series (Computer); Digital computer: minicomputer; AMPL utility (Software); Business applications; promotional materials; MACLINK-Link editor (Software)
Credit
Gift of Thomas J. Buckholtz and Helen T. Buckholtz