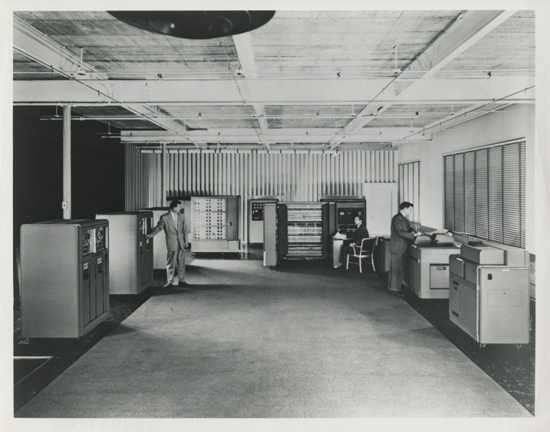 Title
IBM 701 Electronic Data Processing System
Description
B&W, view of IBM 701 Electronic Data Processing System on patterned tile floor with a carpet(?) in center. Black wall, left background; vertical blinds, center background; windows with horizontal blinds and white wall on right background. Three men in suits. One man at right looking at output from printer. Another man at left side turning away from a tape drive unit. One man in center, back, on arm chair in front of a control panel. Large circular, black ventilation port at center top in ceiling. Verso: "NOS-70" in black ink, upper right corner. "P4112" in black pencil, sideways, center left edge. "1952 FIRST "701"" in black ink, sideways, lower left.
Date
1952
Publisher
International Business Machines Corporation (IBM)
Identifying Numbers
| | |
| --- | --- |
| Other number | NOS-70 |
| Other number | P4112 |
Dimensions
8 1/8 x 10 in.
Format
Photographic print
Category
Identification photograph; Publicity photograph
Subject
Computer industry--History; Computers--History; Electronic data processing--History
Credit
Courtesy of Gwen Bell