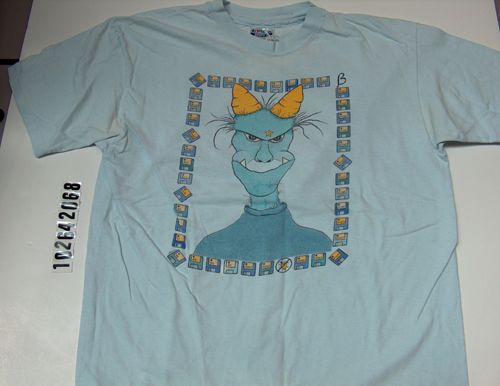 Description
The front of the shirt has a cartoon portrait of a fanged and horned deamon with a star on its forehead. The portrait is framed by a series of floppy disks with alpha-numeric labels and small Apple logos. Among the floppy disks is a fantasy insect under a circle with a slash (left of center on the bottom row of floppy disks), and the Greek character beta in upper left corner. The design is done in shadesof blue, teal, purple, and gold. There is a copyright symbol and an artist's signature that may say "tbekkala". The back of the shirt has an Apple logo in the center top. The lettering underneath says: "THE BLUE. THE PROUD. THE MEAN." all in teal ink.
Manufacturer
Apple Computer, Inc.
Place Manufactured
U.S.
Dimensions
1/8 x 34 1/3 x 28 in.
Category
Ephemera/Textile/Clothing
Credit
Gift of CHM AppleLore