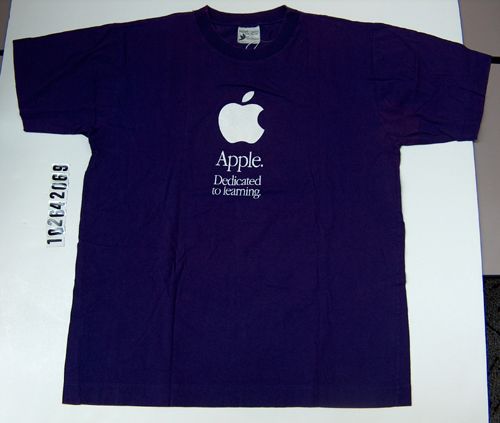 Description
The front of the shirt has an Apple logo in white on the top center front. Centered underneath the logo are the words: "Apple.", "Dedicated", "to learning." All designs and printing are in white ink. The back of the shirt has a cartoon computer, with a crazy face, dressed in a mortarboard hat, with an open book on its arm in an oval frame. The cartoon is printed in red, gold, and black. Underneath the cartoon are the words "CoMMiTTED To", "iNSTiTUTioNS" printed in white ink next to a white Apple logo.
Manufacturer
Apple Computer, Inc.
Place Manufactured
Australia
Dimensions
1/8 x 33 1/2 x 26 1/2 in.
Category
Ephemera/clothing
Credit
Gift of CHM AppleLore