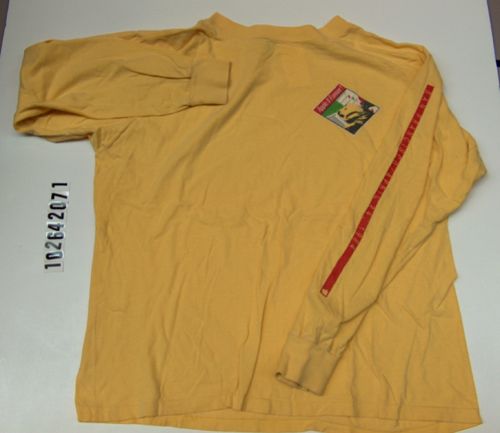 Description
The shirt has long sleeves. There is a small trapezoidal design on the left side of the front. It has the lettering "Apple II Forever!" in white letters on a red background. There is a cartoon design of the torso of a man in a yellow long-sleeved shirt holdinga computer with an small Apple logo. There are a series of flags in solid colors on flag poles in the background. The design is printed in white, black, green, and red. Down the length of the left sleeve is the lettering "SAN FRANCISCO / APRIL 24, 1984" and the Apple logo in reverse tone lettering, yellow on a red background.
Date
1984
Manufacturer
Apple Computer, Inc.
Place Manufactured
U.S.
Dimensions
1/8 x 61 x 24 1/2 in.
Category
Ephemera/clothing
Credit
Gift of CHM AppleLore